There are thousands (maybe millions) of websites that say they are penpal and friend sites on the Internet. As an avid penpal seeker, the creators of The Mailbag have come across some good sites, some bad sites some sites best left alone and some sights that promise you everything but either give nothing or are really just adding you to SPAM lists.
That is why it is the aim of the creators of The Mailbag to list and review as many penpal sites as we can. We hope this will help YOU to find the right friend out there! :)

This is NOT an actual site for leaving penpal ads. But if you would like to use our guestbook for that purpose you may. When doing so, please respect the rules we have set and therefore hopefully NOT have your message deleted. :)

The creators of The Mailbag take no responsibility for the outcome of any meetings or friendships created through our site. If you do not want strangers calling you or coming around to your house, do NOT give out personal details like phone numbers and addresses in your ads on ANY penpal site you visit.
If you do, any out come is your own responsibility. Please play it safe when seeking new friends! :)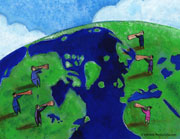 All are welcome to this site who are truely looking for friends and penpals. The Mailbag hopes to offer you a list of as many different TRUE penpal sites that are on offer, as well as review any new ones.
If you own a penpal site that you would like listed, please contact us and we are happy to take a look as soon as we can.
Please note: As The Mailbag is a site maintained in the creators spare time, some areas or links may become out of date or broken. We apologise for if this may happen and ask you report any such matters to us. The problem area will then be rectified as soon as possible.
Thanks for your time and for visiting. :)
Please let the creators of The Mailbag know what you think of their site by signing the Guestbook below. If you would like them to reply to your feedback, make sure you leave a VALID e-mail address.

You can also use the Guestbook to mention your penpal site, it will then be reviewed and added to our "Good, Bad or Ugly" list. :) Please note that all ads for other penpal sites placed in the Guestbook will be removed once reviewed and listed elsewhere on The Mailbag.
DO NOT use the Guestbook to advertise anything BUT your own penpal site or to place a penpal ad/ leave us Feedback. This website is family orientated so please keep it clean, do NOT give out personal details, or incorrect details or use any addresses already in the guestbook for anything BUT penpal purposes. Finally, please don't leave sexist, racist remarks or hate mail in our guestbook. Anything objectional left there that is not truly constructive criticism will be deleted immediately.
If you want to use The Mailbag to find penpals, we hope to soon start up a newsletter for ads, reviews and sites that can be emailed to you as a Word document or posted (Snail mail) to you if you supply a stamped self addressed envelope. Unfortunately the newsletter will not be an immeditate feature as it will take place whenever we have time to make it. :) It will also depend on demand so if you want it, let us know! ;)